ISPFAX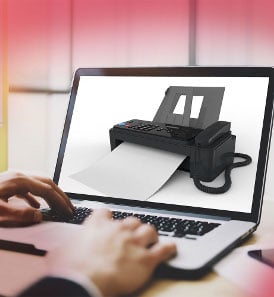 ISP Telecom's Wholesale 'ISPfax' solution is a bridge from a traditional fax line and machine set-up to a low-latency carrier-grade Internet fax service solution for your Customers.
Our fax servers are directly connected to the Canadian PSTN and internet backbone. Our relationship with major carriers across Canada ensure speedy and high-quality delivery.
All it requires is a Customer's fax DID and email address and your Customers can send and receive faxes using any device (computer, tablet, smartphone, laptop) with simply an email account.

Our ISPfax solution is as simple as '123'
Easily view your customer's fax stats and billing on our Customer Portal.
It can be integrated by porting an existing fax number, or ordering a new DID or Toll-Free number that's tied to an e-mail account
Fully compatible with all email platforms.
Flexibility to send fax to multiple numbers in single mail
Receiving Fax
Faxes are received as an email PDF Attachment
Simply open the attached PDF file to view the fax
Sending Fax
Compose new mail with recipient number (or numbers, following a particular format).
Attach the PDF document to be faxed and send.
An email confirmation follows, once the fax is sent successfully.
For more information please email:
[email protected]